This post contains a link to a book on Amazon.
Last week I made a really monumental decision.
I'm currently re-reading When God Writes Your Love Story by Eric and Leslie Ludy. This is the … 4th or 5th time I've read this book. I'm re-reading it because I never took it seriously. Back in very early 2015, after midweek service, someone told me that I should read this book because 'everyone that reads this book finds their husband'.
So what did 20 year old me do?
I read the heck out of that book with the expectation that God was going to drop my future husband from the sky.
25 year old me is still single if you're wondering.
That isn't a bad thing though because I finally realized what is SO special about this book. The book isn't about God just giving you your husband (or wife for my male readers). It is about letting go of your control over every aspect of your life and allowing God to drive. The book is about having absolute faith that God's plan for our lives is immaculate.
There is a chapter where Eric talks about when he really gave God everything. He describes the process as God boarding his ship and taking over the captain's quarters. Eric was fine with that! In fact he says "I was okay with Him taking over part of the ship, as long as some of the rooms on the lower deck remained under my jurisdiction."
God is funny. The first thing He did was knock on the doors of the rooms on the lower deck. Revelations 3:20 (NIV) says 'Here I am! I stand at the door and knock. If anyone hears my voice and opens the door, I will come in and eat with that person, and they with me."
The Bible doesn't say that God will burst through the doors and force us to comply with His Will. He will knock at the doors of our hearts (or the doors on the lower deck) and wait for us to open them. The 'Reflection' at the end of Eric's chapter talked about what we think would happen if we gave God full control.
Circling back to my monumental decision. On February 27, 2020 at 10:50ish PM, I told God that He could have everything. I told Him that I would learn to trust Him.
Almost immediately, despite my nervousness, I felt a sense of peace. I knew I made the right decision.
Then God started knocking.
Ever been on a really fast roller coaster? Like so fast your head jerks back a little when it takes off and you experience whiplash?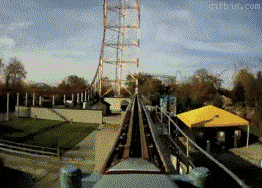 That is how I felt when God started knocking on the doors of my heart. He moved much faster than I was anticipating. Sure I do a devotional every morning and I am truly starting to hear His voice, but according to the gentle convictions He has placed on my heart… I have a long way to go.
God has revealed to me that I'm not exactly the nicest person at times, usually when I go dancing. I hate being bumped, touched or stared at by drunk people … well people in general (if I'm being honest). God showed me that the nasty attitude I have in those moments is not becoming of a Christian. He also showed me that my heart can't truly be a servant heart, as I claim it to be, when I harbor such animosity toward folks who don't usually realize that they are bumping into someone or staring at someone. I prayed for forgiveness and asked a member of the prayer team at church to pray over me as well.
One door opened. One room cleared out.
Then God knocked on another door, the door to my favorite room, and asked that I clear that one out. He knocked while I was in the bathroom at work. I knew He was knocking but I pretended like I couldn't hear Him. I went back to my desk and tried to ignore the fact that deep down, I knew God was right.
As God always is.
This room is where I find my nails. Yes, I said my nails. You will rarely catch me without my nails done. This room is where I found my self-esteem and my comfort in my own skin. I am extremely self conscious about my fingers. There is literally nothing wrong with them, but I feel like they look better with long and pretty nails.
I love my nails so much and I am so comfortable in this room that I have begun to idolize getting my nails done. I spend a lot of money each month to ensure that my shape is perfect and that my nails are perfectly polished. Matthew 6:24a (NIV) says "No one can serve two masters. Either you will hate the one and love the other, or you will be devoted to the one and despise the other." So I made the decision to get my nails cut down and to wear my natural nails for a while.
Another door opened. Another room cleaned out.
God is faithful a God. When I asked Him to take everything, He moved quickly because He has plan that I can't even fathom. As God continues to knock on more doors and mold my heart after His own, I know that I will lose friends, interests and worldly desires. The thought of God looking at me one day and saying "Well done My good and faithful servant," means more than any friendship, interest or desire.
Reflection
If you're ready to really trust God, ask Him to be the captain of your ship and relinquish control. Let go of the wheel and sit down. Watch how God steps in and steers you from any situation that would sink your ship.
Grab a journal or some paper. Sit in silence. Pray that God suppresses any thought that would be louder than His gentle whisper. Then just listen. Allow God to speak to you and write down what He says. If what He says doesn't make sense in that moment, just pray for eventual clarity and move on.
Try doing this a few times a week and see what God reveals to you.